Vegan pasta is usually a no-brainer, especially since a lot of pasta is naturally vegan. Egg noodles are the tricky bit if you ask me – because you want a pasta that has the egg flavor while providing the thickness and shape of the traditional egg noodle. We tried several eggless noodle recipes, but this is by far our favorite. We hope you enjoy it as much as we do!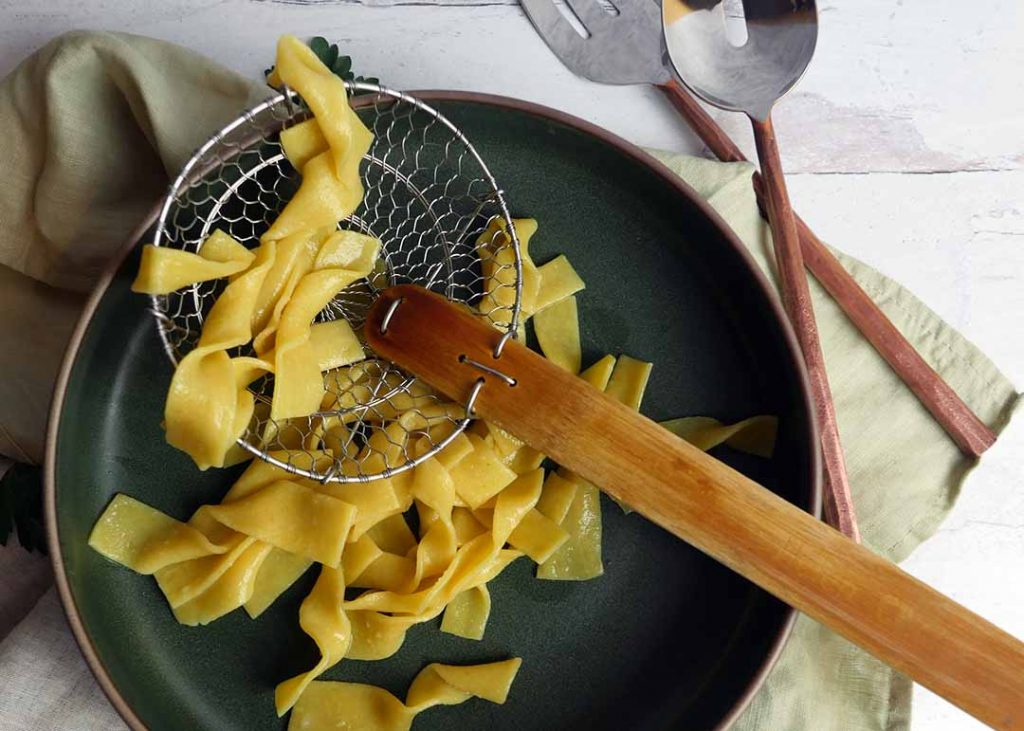 How to Make Thick Vegan Egg Noodles
If you want to make thick vegan egg noodles you need to consider two things: how much you roll out the dough, and what ingredients you will add to ensure the dough binds enough to hold its shape.
I've tested plenty of vegan egg noodle dough recipes, but this combination of ingredients led to the best result. Reduced aquafaba is the ingredient that holds everything together and provides a sturdy dough, and then we roll it out to 1/8″ thickness before shaping it.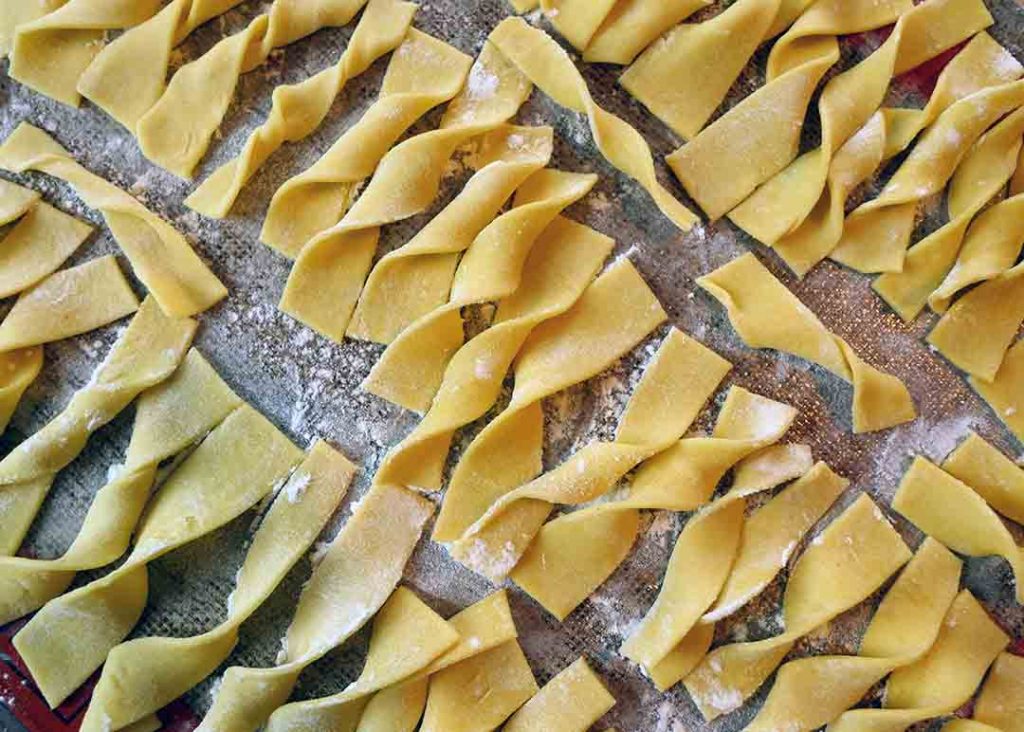 Why This Recipe Works
Egg flavor: This recipe gets its "eggy" flavor from a combination of turmeric and black salt. Turmeric helps to add flavor and some of the yellow color you associate with egg noodles, while a bit of black salt provides the sulphuric flavor of eggs. If you don't have black salt in your kitchen you can omit this from the recipe (it's a hard ingredient to find – we order ours online).
Reduced Aquafaba: Aquafaba is the liquid you find in a can of chickpeas. This magic liquid can be frozen in ice cube trays and used for plant based cakes, cookies and pasta. We used a whole can of aquafaba, which comes out to about 3/4 Cup, then reduced that over heat in a saucepan until it measured about 1/3 Cup. The idea was to keep the binding properties while reducing some of the liquid, that way the dough stays firm and holds its shape.
Nutrition Facts
4 servings per container
---
Calories288
Amount Per Serving% Daily Value *
Total Fat 7.6g

11

%
Sodium 292mg

13

%
Amount Per Serving% Daily Value *
Potassium 70mg

2

%
Total Carbohydrate 47.8g

16

%

Dietary Fiber 1.7g

4

%
Sugars 0.2g

Protein 6.5g

12

%
* The % Daily Value tells you how much a nutrient in a serving of food contributes to a daily diet. 2,000 calories a day is used for general nutrition advice.
*Nutritional values are approximate based on best available data