These pinto bean beet burgers are plant based and keep in the freezer well. This is the perfect item to make over the weekend and then enjoy all week when you have a busy schedule. We prefer ours paired with some homemade Russian dressing, pickles and lettuce. If you're feeling extra ambitious you can make your own hamburger buns too!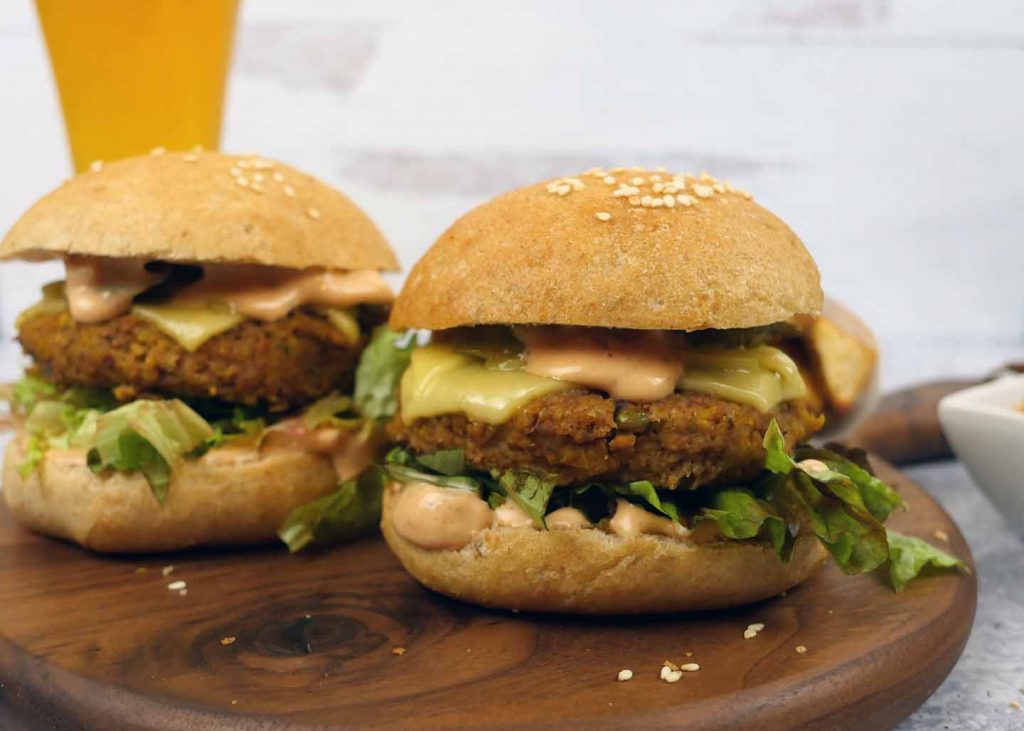 Beet Burger Recipes
I've said it before and I will say it again – beets are super versatile. When my husband and I first met I was buying those pre-pickled beets you find in the produce section to add to my salads. He told me he didn't really like beets, and I think that set me off on a secret mission to change his mind. Now he enjoys beet tartare, beet hummus, pickled beet stems and these beet burgers.
There are many different methods to making a beet burger. You can usually assume you will have two main ingredients and then a bunch of other filler ingredients to add texture and flavor.
Red or Golden Beets
The first main ingredient is beets, and you can choose between red or golden beets. Red beets have a stronger, more earthy taste. If you really want the beet flavor to shine through then I suggest using red beets. Golden beets have a more mellow flavor, and they take really well to other flavors. I much prefer this recipe with golden beets that way the flavor from the basil, pistachios and spices come though.
Main Texture Ingredient
Beets are hearty little suckers, so your second main ingredient should be one that will help combine the ingredients and add something to the texture of the burger. Some popular choices are beans, lentils and quinoa. Quinoa can be hard to work with and if you don't get the mixture just right it will crumble apart very easily. Lentils need to be mashed well if you want your burger to stay together. Beans on the other hand, well beans are pretty easy. If you're looking for a "I can't mess this up" recipe I would always suggest using beans. My bean of choice is the pinto bean because it lets the other flavors carry through.
More Texture, Herbs & Spices
The burger would be pretty boring if you left it to the beets and the beans. The fun part is always deciding which extras you'll add to the mixture to get texture variety and flavor. Nuts like walnuts and pistachios are a great option. Rolled oats can help soak up any extra moisture and keep the burger together. Finally, herbs and spices bring the flavor home.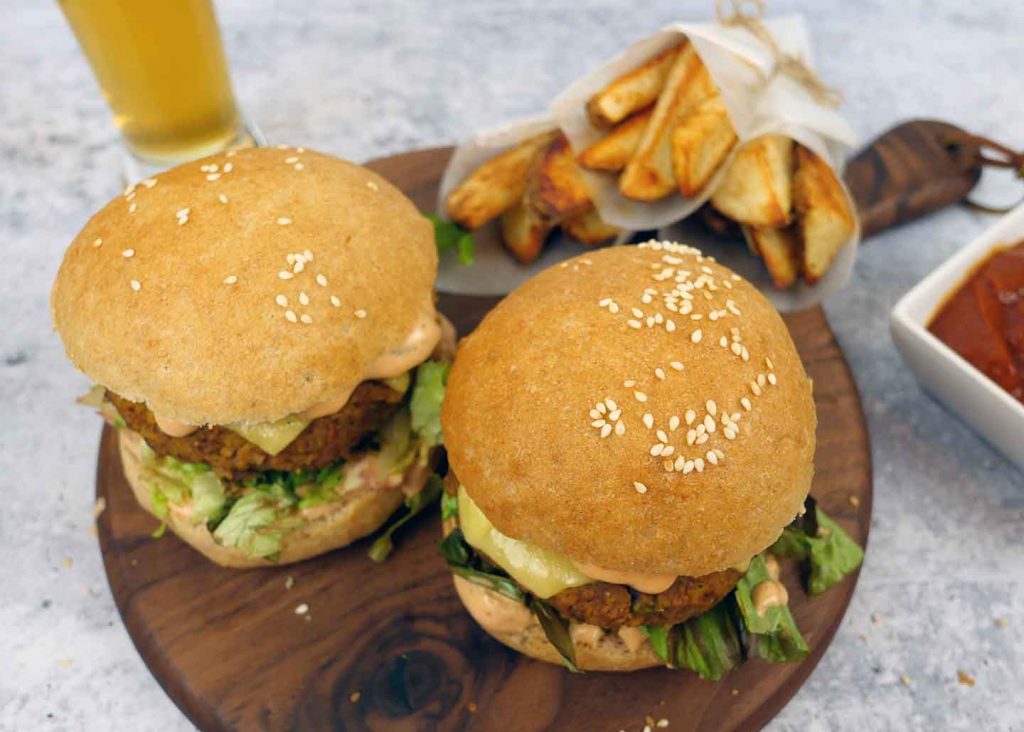 Vegan Pinto Bean Beet Burger Recipe
While this recipe looks like a lot of ingredients the process for making it is pretty easy, and you can swap items out or omit them if you don't have them handy in your kitchen.
Recipe Ingredients
Shredded beets – you don't even need to pre-cook your beets. Just shred them in a food processor and you'll be good to go. You can use red or golden beets, but I prefer golden.
Pinto beans – I prefer pinto beans due to their mild flavor, but you can also use black beans or chickpeas.
Walnuts & pistachios – these nuts help add texture and some nuggets of flavor. Don't have these nuts? Swap them out for pecans or cashews.
Rolled oats & breadcrumbs – these help soak up extra moisture and keep the ingredients well combined. Don't have one? Just use more of the other.
Herbs & spices – I use garlic, fresh basil, stone ground mustard, cumin, paprika, tarragon, tamari and red pepper. Don't have one of these? Just omit it or swap it out for something similar (or not similar, the kitchen is for experimenting)!
Nutrition Facts
8 servings per container
---
Calories200
Amount Per Serving% Daily Value *
Total Fat 7.3g

11

%
Sodium 415mg

18

%
Amount Per Serving% Daily Value *
Potassium 362mg

11

%
Total Carbohydrate 27.5g

9

%

Dietary Fiber 5g

20

%
Sugars 4.1g

Protein 8.3g

16

%
* The % Daily Value tells you how much a nutrient in a serving of food contributes to a daily diet. 2,000 calories a day is used for general nutrition advice.
*Nutritional values are approximate based on best available data