My husband started crafting his sourdough starter during the pandemic lockdowns. I really didn't appreciate all the yummy goodness it would bring us during that time. I was mostly fixated on the jars of (what smelled like) cheesy liquid he would make me smell everyday.
The pandemic meant I was working from home and he was on a partial schedule at work – so I smelled this starter every day… much to my dismay. A month of this passed and Ta-Da – the smell started to resemble something I would rather enjoy eating. Who would have guessed?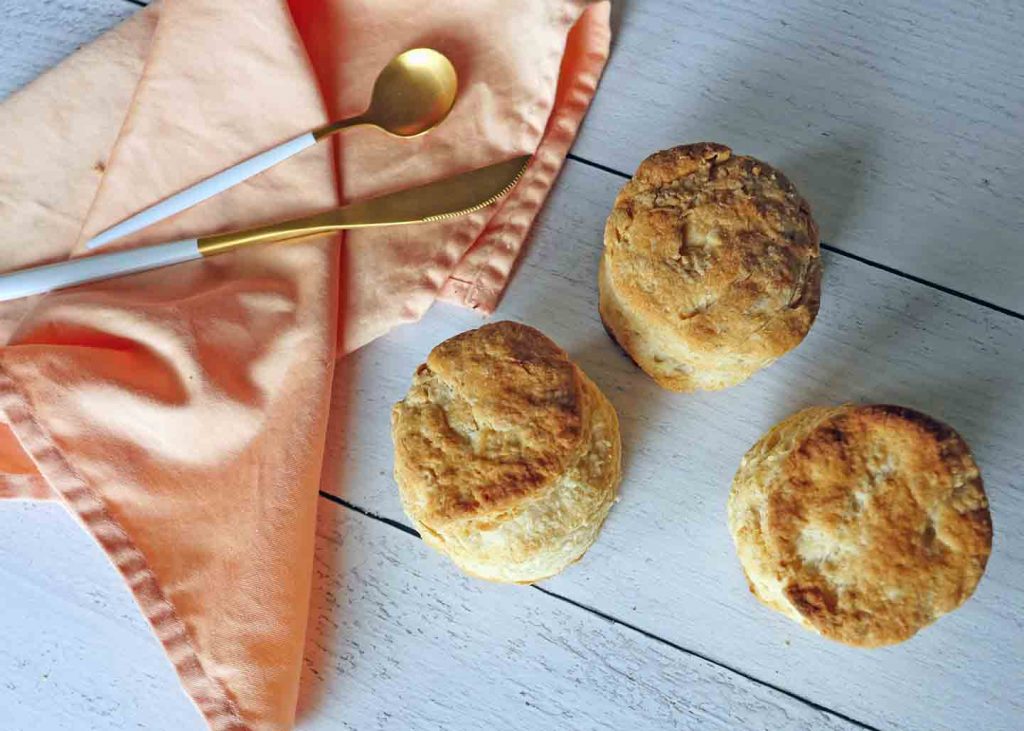 The Perfect Addition to any Breakfast
Had I known I would enjoy freshly baked biscuits on weekends because of this month long smell test, I might've not given him such a hard time. Now I'll happily tell you that the juice was worth the squeeze. These biscuits are a breakfast in themselves, or the perfect accompaniment to tofu scramble or a smoothie. We use chilled coconut oil instead of butter and the result is – well, try to eat just one.
This Biscuit Recipe is Easy
My favorite part about these biscuits? They are easy. My most prized recipes are the ones I can recite in my sleep. They are the recipes I can make while binging Netflix and simultaneously hashing out my to-do list for the day. They're the kind of recipes I don't even have written down (until they hit the blog) because they just are. I hope you enjoy these plant based biscuits as much as we do. If you've got feedback on how they could be better please share! We bake these bad boys at high altitude – so I'm always curious what baking times and temps other parts of the world find best.
Cheers! – Tiff Quillan
Nutrition Facts
6 servings per container
---
Calories272
Amount Per Serving% Daily Value *
Total Fat 18.5g

28

%
Sodium 293mg

13

%
Amount Per Serving% Daily Value *
Potassium 202mg

6

%
Total Carbohydrate 24.6g

8

%

Dietary Fiber 0.9g

0

%
Sugars 0.1g

Protein 3.2g

6

%
* The % Daily Value tells you how much a nutrient in a serving of food contributes to a daily diet. 2,000 calories a day is used for general nutrition advice.
*Nutritional values are approximate based on best available data